Often in gastronomy, tradition, innovation and originality blend together in harmony and create trends, surprises, twists. A characteristic image is the melomakarono, the traditional Christmas sweet, made with wheatmeal and honey, that we nevertheless find in Naxos island as a biscuit. On the other hand, the gastronomy imprint of every place finds the space to appear, even with little differentiations. Citrus fruit in meat, raisins and prunes in dishes cooked in olive oil, bright red pomegranate in green salads. After all, these differentiations take our gastronomic tradition a step further, blending effortlessly the past with the present and the future. In the following article, we will get to know some characteristic gastronomic habits, sorted by region, in Greece and abroad. We should not forget, anyway, that in order to take the next step, one should know the past well.
Smoked trout, red pepper pâté, cornelian cherry liqueur, pleska (village pie) with corn flour, cherry jam, fried grivadi (carp), pickle cabbage. Fresh butter, pasta made with buffalo milk, buffalo confit, sausages with leek, tsigarides (fried pork suet), sun-dried tomatoes, trachanas (traditional Greek pasta), casserole buffalo, sour cherry preserve, akanès, kazan dipi, revani (syrupy cake)… Flavours and recipes that narrate the doric past of Kerkini region, the refugee element, the people of Pontus and Minor Asia who came in Greece in 1922, the urban and cosmopolitan imprints. Products and habits with a Balkan trademark, that highlight the cold waters of the North, the sluggish winters, the low temperatures. And above all, hardworking and passionate professionals who know, love and fight for their work.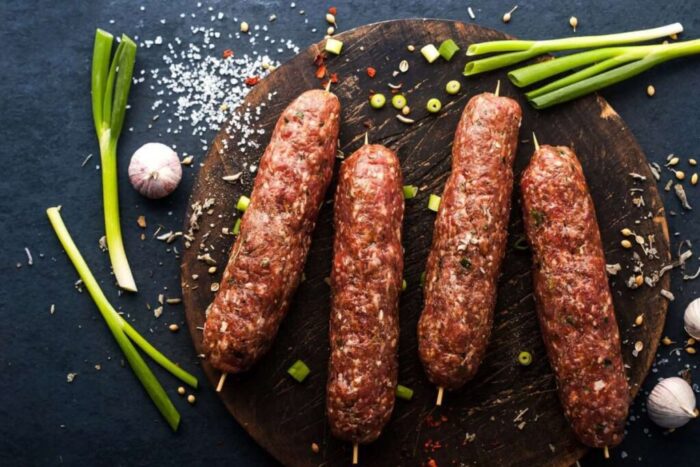 Cold meat producers turn buffalo meat into fine cold cuts, smoked trouts from the local fish farm, hoteliers who turn breakfast into a gastronomic experience. At the same places, here in the North, the famous pligouri (groats) will become a cake and will be served with yogurt, chopped tomatoes and cucumbers. Same products, different presentation!
In Kastoria, around the lake, a rich gastronomic experience awaits us, with the Kastorian cuisine demonstrating exceptional dishes with wonderful taste and focussing on local products. Here, keftedes (meatballs) are made with makálo, the tasty sauce with flour, tomato and garlic, while sarmádes are accompanied by armiá, the pickle cabbage. In Kastoria, you will taste armiopita, a pie with pickle cabbage, as well as grivadi, the famous freshwater fish, cooked in tavas deep dish. Dishes with butter beans – we are at their homeland, after all – and quality and tasteful cheeses, such as kasseri, kefalotyri and kefalograviera (hard gruyere) of Kastoria made with sheep milk, are things that you should definitely taste. As for mushrooms, make sure that your appetite is endless!
When we hear the word Chalkidiki, our mind travels to the big luxurious hotels with the excellent service and the azure coastlines. Apart from that, though, Chalkidiki knows how to safeguard a special part of itself and showcase it through the aspect of timelessness and sustainability. Montane Chalkidiki, Arnaea, Taxiarchis, the mount of Cholomontas and every corner of it, hides surprises that challenge you to discover. This is a different Chalkidiki, with intense taste, high altitudes, many products and imaginative recipes. Here, we taste honey of exceptional quality and potatoes from Cholomontas, as well as a great variety of meat. We visit the enterprising associations of the region, that create delicious preserves and jams using fruit from local agricultures, as well as pasta, such as the famous trachanas.
Tsipouro

In the places where tsipouro and raki are interwoven with everyday life, quinces are cooked filling the pot with scents and will accompany the roast meat at the distillation celebration. And all these will contribute to memories that will imprint permanently and will become an excuse to meet all together again and again.
On the rocks of Meteora
A landmark that hosts one of the most famous sights of Greece, encloses a gastronomic history that deserves to be discovered. The broader region of Meteora is known for the kokoretsi, the kebab and the sausage with leek, as well as for the pies that originate from the doric cuisine, such as greens pie and pispilita, a pie made with corn flour, greens and feta cheese. For dessert, choose spatula, a walnut pie with cream and almonds.