I'm one of those people who were lucky enough to have been born and raised on a rock, in the middle of a sea. One of those people who were lucky enough to have been able, every time they would open their eyes in the morning, to gaze – through the golden sunbeams – at other rocks, which impudently emerged either from a calm or a stormy sea. I'm also one of those unfortunate people, who don't have the chance to look upon those proud rocks as frequently as they would like. However, the time has come that I got to cast off to the Cyclades, in order to see up close once again the most beautiful rocks in the world.
09:15am, arrival at Tinos island. The nice weather was the perfect companion for my journey. After no more than 15 minutes by car, I arrived at Lagkades, an area over Aghios Fokas beach. Standing at the entrance of "Diles & Rinies Luxury Hotel Villas", I let my glance to travel along the scenery and look down on the panoramic view. Inevitably, some verses by the Greek poet Titos Patrikios came to my mind:
"While you wonder about things you see for the first time,





about moth-eaten things that have long gone,





about things that startle though they happen every day (…)





about things that occurred unexpectedly,





about things that you only dreamt of





and someday, out of the blue, they were fulfilled…





At that moment, the poetry finds you."
And this is exactly what happened. Up there, the poetry found me. And images began to pour out.
A big smile and some nice welcoming words are always a remedy for a sleepless or tired visitor like myself. Ioanna Papandrikopoulou, Operations Manager at "Diles & Rinies Luxury Hotel Villas" and an expert in Greek hospitality, deployed her particular humour and her inherent kindness to welcome me, making me forget all concerns that had accompanied me until that moment. We walked down the chiseled stone steps together and arrived at the reception area, alongside the impressive main infinity pool of the complex.
The check in – accompanied by a refreshing homemade lemonade – was completed fast and easy without unnecessary procedures, though with respect to all health protocols due to the pandemic. Later on, Food & Beverage Manager at "Diles & Rinies Luxury Hotel Villas" Giannis Frantzis, the ingenious "lord of the pool bar", cordially welcomed me and effortlessly managed to obtain my compliments on the truly great coffee he prepared for me. "Coffee should be a delight", he says emphatically. And you're so right, Giannis.
Mesmerised by the horizon blue of the Cyclades and the cyan of the Aegean Sea, which surround the raw outline of the neighbouring islands – Mykonos, Rineia, Delos, Syros and far away, Paros – I didn't realise that time had passed when I found myself on the doorway of "Villa Selini". A beautiful duplex residence, apparently influenced by the unique architecture of Tinos on the outside and inspired by Italian and French countryside homes on the inside, would be my "base" for the next three days. 
Whenever I visit a hotel complex for the first time, I have a real soft spot for discovering every corner of it on my own way and pace. That "heartbeat" every time I turn the key on the door, not having any idea of what I'm about to see, is almost addictive. I have to say that from the first moment I got into "Villa Selini", I was impressed by its indoor and outdoor spaciousness. It's particularly rare to find a hotel residence with such large spaces and all the more so in the Cyclades.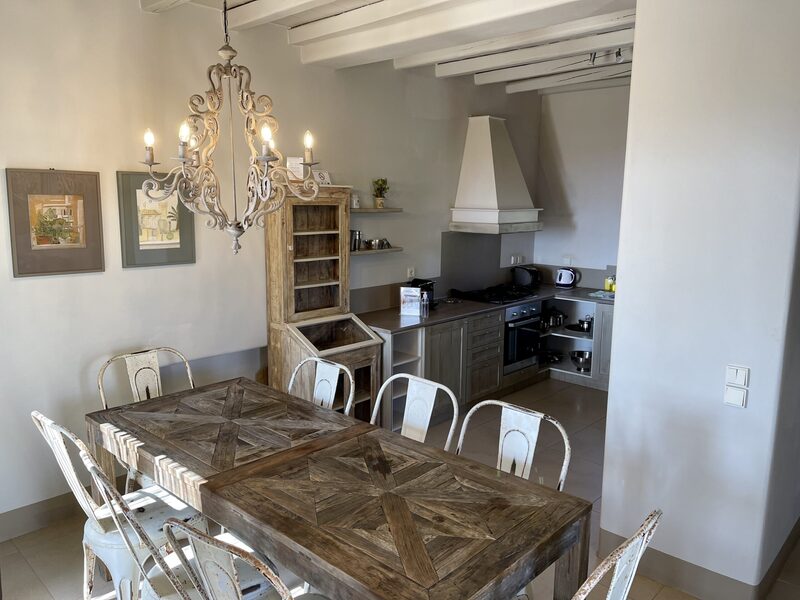 On my way inside, I came across a light coloured sitting room with comfortable couches, an imposing fireplace – for the winter journeys enthusiasts – elegant paintings on the walls and chic decorations that flatter the room. The natural light that enters from the windows through the almost airy linen curtains, "caresses" every spot of the place and I didn't hesitate – not even for a second – to open the glazed door and see myself to a wonderful veranda, one of those verandas where you want to relax for hours without thinking about anyone or anything. Moving on into the residence, the surprises would follow one another. The spacious kitchen of the villa with the soft colour furniture reminded me of those kitchens featuring in decoration magazines. Absolute harmony of colours and materials, fully equipped household goods and a wooden dining table that would invite me to create carefree images of romantic dinners or casual meals with friends.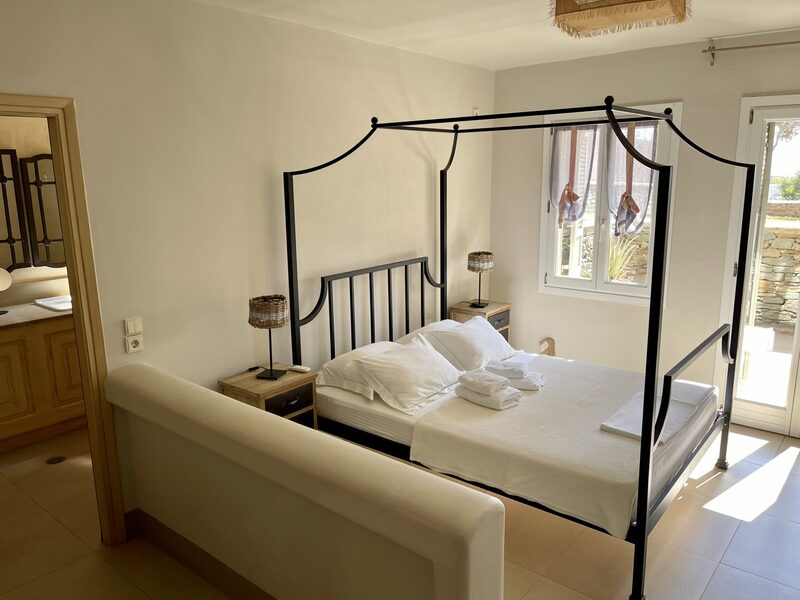 Going down the stairs to the ground level, I felt like entering into the "sanctuary" of the villa. A wonderful master bedroom with pale colour furniture and creative lighting, completed by a comfy bathroom with elegant vintage style furniture and contemporary aesthetics sanitary items. I followed the corridor and came across a second bedroom with its own bathroom, too. It was then that I realised how much importance has been given by the architectural study to the need of the visitors for independence even in the – unavoidably delimited –  indoor space of a villa.
One of the particularities that make "Diles & Rinies Luxury Hotel Villas" so special in my own eyes, is the fact that it can be the ideal destination for individual vacation, as well as for group accommodation. Built amphitheatrically at a calm area, totally incorporated to the beautiful natural environment, with a breathtaking view to the sea from every angle, the "green concept" villas of 100 to 180 square metres can accommodate up to 60 guests in total. This by itself highlights them as a perfect choice for very special occasions, such as weddings, family gatherings, private parties, business and social events.
I'm sure that autonomy – a characteristic that more and more visitors request during their holidays, I myself among them – was regarded as non-negotiable in the construction of "Diles & Rinies Luxury Hotel Villas" and you can notice that everywhere you look. Every villa has its own garden, its own parking area, large verandas, unlimited view to the sea, elegant outdoor furniture, large dining tables and barbecue installation, while some villas have a private pool. The presence of a laundry room at the ground level of every villa is another advantage. Especially if you are susceptible to stains and similar "accidents", it proves to be a real lifesaver and I mention it from personal experience!
Following the international trends and taking into account the requests and needs of its domestic and international clientele, "Diles & Rinies Luxury Hotel Villas" has attributed special importance to wellness and wellbeing, among other fields. At a very beautiful place, with wood and stone as its prevailing materials and absolutely adapted to the natural scenery of Tinos island, I seized the opportunity to treat myself to a full body deep tissue massage. Hearing the sound of running water and the Aegean breeze that would "frolic" through the screen of rushes, I let myself in the experienced hands of massage specialist and physiotherapist Katerina Vidali. The rejuvenation and physical boost that I got from her dynamic therapy, proved to be the most beneficial gift.
I was deeply satisfied to find out that privacy, luxury, discreet service, comfort and all the advantages of high quality hotel services are regarded as indisputable prerequisites at "Diles & Rinies Luxury Hotel Villas" and successfully highlight the hospitality and celebrated local products of Tinos island. It would have been a great omission not to mention the delicious breakfast – brunch with the wonderful alternation of local choices and flavours that I got to enjoy during my stay. A breakfast with products of exceptional quality, that guests can taste at the private veranda of their suite or at the comfortable area surrounding the mail pool of the complex.
"Diles & Rinies Luxury Hotel Villas" has utterly enchanted me. The experience of my stay there is full of unique images. Thanks to its people, I have discovered a different Tinos. An island that leaves the stereotypes behind and decides to reveal its unknown beauty to the visitors. Thank you very much for offering me the motive to count down to the moment that we'll meet again!
For more info about Diles & Rinies, click here